Mangia NYC Unveils Unforgettable Thanksgiving & Friendsgiving Menus: Feast on Flavorful Traditions
A culinary celebration awaits at New York's iconic eatery as it launches a cornucopia of catering options for a delicious hassle-free holiday.
November 20, 2023 – New York, New York – Mangia NYC, New York's famous artisanal Italian restaurant is talking turkey and ready to serve up a bountiful feast to celebrate Thanksgiving and Friendsgiving through Mangia catering. The restaurant known for pioneering the farm-to-table fresh movement and its talented crew have prepared yet another exceptional heartwarming menu for easy holiday celebrations and are now taking orders.
Mangia is thrilled to announce that their savory whole-cooked or thinly sliced turkey is now offered with fee delivery just in time for Thanksgiving and Friendsgiving festivities. Furthermore, the skilled artisans at their renowned 57th Street bakery are busy preparing a variety of pies featuring classic flavors such as pumpkin, pecan, and apple, certain to become the talk of the table. In addition to these delectable desserts, Mangia is also crafting hand-decorated Thanksgiving cookies and presenting an array of elegantly designed gift boxes, perfect for holiday gifting.
A new addition to Mangia NYC's Thanksgiving catering offerings is the Thanksgiving Lunch Box. These versatile boxes are ideal for office holiday celebrations and make excellent presents for clients or partners. Filled with tasty Mangia goodness the Lunch Box includes a Thanksgiving favorite cranberry chutney sandwich, a side salad, and a holiday cookie.
"This Thanksgiving, our team at Mangia NYC has created a spectacular menu that is sure to suit every palate and bring people together for a mouthwatering memorable gathering around the table," says Elena Consta, Marketing Director of Mangia NYC.
Mangia NYC invites everyone to discover their Thanksgiving and Friendsgiving offerings and experience the flavors of the season by placing an order today.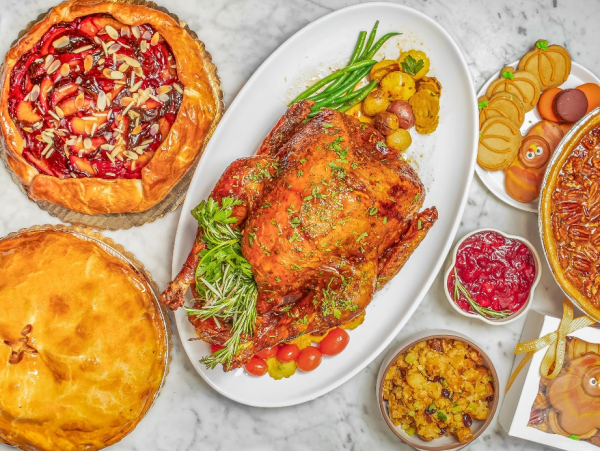 About Mangia NYC:
Mangia NYC has been at the forefront of New York's farm-to-table freshness movement since 1981. The acclaimed artisanal Italian eatery is recognized not only for its exquisite, locally sourced cuisine but also for its commitment to eco-friendly practices, including its catering services. Mangia! "Live the life you love."
CONTACT: Please contact us if you want to learn more about Mangia NYC, their seasonal Thanksgiving menu, and catering, or if you want to schedule an interview for an article.
Website: https://mangia.nyc/
Address: Mangia NYC
50 W 57th Street, New York, NY 10019
Social Media:
https://www.instagram.com/mangia_nyc_official/
https://www.twitter.com/Mangia_NYC
https://www.pinterest.com/mangianyc
https://www.facebook.com/MangiaNYC
Media Contact
Company Name: Mangia NYC
Contact Person: Sasha Muniak, Founder
Email: Send Email
Phone: (212) 980-6363
Address:50 W 57th St
City: Manhattan
State: NEW YORK 10019
Country: United States
Website: https://mangia.nyc/