Scalp Micro Pro Clinic Introduce Innovative Technology Based Scalp Micropigmentation Treatment
Burlington – The eminent Scalp Micro Pro Clinic a US-based company has introduced innovative technology-based-solution for Scalp Micropigmentation treatment. Scalp Micro pigmentation is a fast-growing solution to different kinds of hair loss, delivering instant reward and a greater boost in self-confidence. It is a cost-effective, reliable, and best solution to hair loss.
Scalp micro pigmentation is a non-invasive procedure that uses micro-needles to deposit carbon-based pigment onto the upper layer of the skin, known as the epidermis, to create the appearance of hair follicles, restoring the look of a thicker, fuller head of hair. This procedure can restore a receding hairline, add density to thinning areas and camouflage scars, and create the look of a short buzz cut.
Scalp Micro Pro Clinic is offering unique services in the area hair loss solutions. The solution is based on the needs of the individual that fits with his/her personality. Scalp Micro Pro Clinic assures the best results to the customers. The result will exceed the customer's expectations. Scalp Micro Pro Clinic is a leading organization to use the latest technology in scalp micro-pigmentation treatments.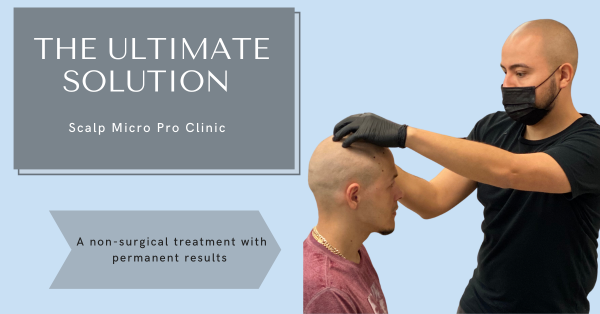 Scalp micro pigmentation treatment has numerous amazing benefits such as it can help to retore hairline with micro-pigmentation and regardless of the balding stage, scalp micro-pigmentation allows to recreate a full buzzed haircut, giving you a fresh low maintenance look. For thinning hair, scalp micro-pigmentation can add density to thinning areas giving the appearance of stronger, thicker hair. Scalp scars, whether from previous hair transplants, plugs, alopecia scarring, or accidental scarring, can be concealed with scalp micro-pigmentation. This treatment can help significantly reduce the visibility of scars on the scalp.
Scalp Micro Pro Clinic is offering complete scalp micro-pigmentation treatment. For a complete treatment, three separate sessions are required to achieve the natural look of the hair. However, time and number of sessions depend on the ratio of hair loss. Scalp Micro Pro Clinic also dealing in scalp micro-pigmentation, and hair transplant.
So far, Scalp Micro Pro Clinic has provided its services to hundreds of people. One of the clients Mr. Carson has shared his views that "After several failed attempts at growing my hair back, I was extremely skeptical. This was an easy process that brought back a little more hope. By the end, it really brought my confidence back and my youth".
Mr. Victor E. Ibarra – CEO, "Scalp Micro Pro Clinic said that scalp micro-pigmentation helps you become a better version of yourself. My goal is to deliver natural results to men and women to give your confidence back. We are determined to provide the best services to our customers by using the latest technology in scalp micro-pigmentation treatment."
Media Contact
Company Name: Scalp Micro Pro Clinic
Contact Person: Victor E. Ibarra
Email: Send Email
Phone: 3362640233
Country: United States
Website: https://www.scalpmicroproclinic.com/