Deedria Chauntee Productions Returns With Gospel Drama 'Daddy's Home But My Husband Aint' After Being Shuttered by COVID-19
The successful stage play is ready to hit the ground running with shows in Mississippi, Louisiana, Georgia, Virginia, and Alabama.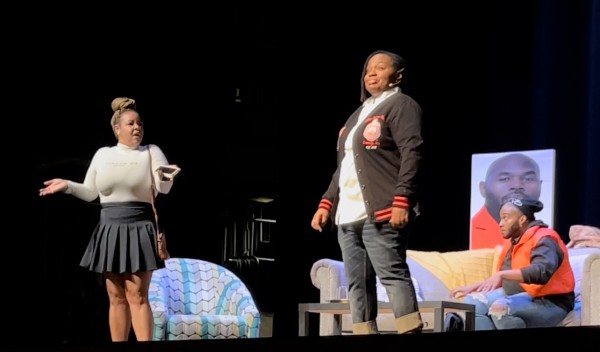 As we continue to celebrate Women's History Month, successful Playwright and business maven Deedria Chauntee is bringing audiences back to the theater with her stage play 'Daddy's Home But My Husband Ain't'. As a 15 -year veteran beauty school owner, Deedria is no stranger to Atlanta's business and entertainment spaces. She originally created the stage play to build scholarship funds for academy students, and the success of the play caused thebrand to build beyond her expectations.
Daddy's Home But My Husband Ain't originally debuted in 2018 with over 800 attendees and to rave reviews. While it was a successful run in the local theater circuit, the production was officially canceled as a direct result of the COVID-19 pandemic. Now, the cast and crew are back and have welcomed notable cast members including Grammy-nominated Engineer D'Vante Black,
Singer Dave Tolliver of the hit Group Men at Large, Jaymad, Joey Lee, Keierica, Brigette Eppes, Rah, Tasha G akaThe Female Leader, Mahogany Raspberry, Radio Host Rainy Cates, Angelica Reese and Angela Hutchins.
The current season opened in November 2022 in Atlanta, with upcoming shows in:
New Orleans, LA – April 9, 2023
Huntsville, AL – April 16, 2023
Richmond, VA – April 28, 2023
Norfolk, VA – April 29, 2023
Jackson, MS – May 11, 2023
And more to be announced!
This is a stage production that you do not want to miss. Tickets are available for purchase for select cities and datesat www.daddyshometheplay.com.
Follow the play's updates and news on Instagram @daddyshometheplay.
To learn more about Playwright Deedria Chauntee, follow her journey on Instagram @deedriachauntee.
ABOUT DEEDRIA CHAUNTEE:
Virginia native Deedria Chauntee is an award-winning Master Cosmetologist and Master Educator is the founder of several beauty schools. Deedria, tirelessly works to ensure the success of her students, staff, and employees.Deedria earned her cosmetology degree at Flair Beauty Institute in Petersburg VA, then opened her first salon and a host of successful beauty businesses in the area. On a quest for divine purpose in 2007, Deedria relocated to Snellville, Georgia where she realized her life's calling is to mentor and empower others.
Deedria operated her massive 10,000 sq. ft. facility educational facility in downtown Atlanta for 15 plus years before retiring in 2023. Coincidentally, Deedria Chantee began writing plays as an avenue to create scholarships for her students. Today, she is embracing her calling as a play-write and producer as an avenue to create more opportunities for others to thrive. She has officially launched Deedria Chauntee Productions. Deedria is no stranger to the entertainment world, having been contracted for major motion pictures including The Fast and the Furious and Spiderman.
Deedria Chauntee currently resides in Atlanta, Georgia with her family.
Media Contact
Company Name: Deedria Chauntee Productions
Contact Person: Janae Johnson
Email: Send Email
City: Atlanta
State: Georgia
Country: United States
Website: www.daddyshometheplay.com