D. Shim recently shared his expertise with middle school students at Palm Glades Preparatory Academy in Miami, Florida.
D. Shim, recently shared his expertise with middle school students at Palm Glades Preparatory Academy in Miami, Florida. In the lecture, he provided students with valuable insights on how to become a music producer in 2023.
D. Shim started off the talk by sharing his personal journey and what he do as a music producer. Then he proceeded to provide the students with the basic tools and information required to become a successful music producer. In addition, he gave the students insider tips on how to succeed in the music industry and shared some of his personal experiences.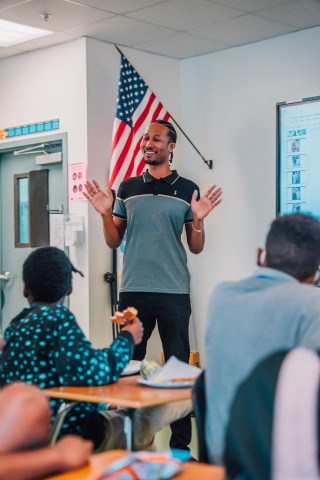 The students actively participated in the Q&A session, asking insightful questions and expressing their eagerness to learn more. One of the highlights of the lecture was the final project, where D. Shim offered the students a chance to work with him in the studio on a song. This created a buzz among the students, and many were eager to be a part of the project.
Reflecting on the experience, D. Shim expressed his gratitude for the opportunity to speak to the students and the joy he felt in sharing his knowledge and experience. D. Shim also expressed his willingness to collaborate with more non-profits for school music programs in the future.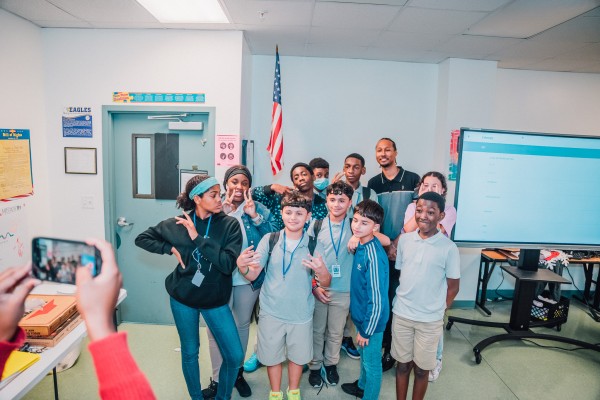 The lecture was a great success and the students left feeling inspired and motivated to pursue their passion for music production. D. Shim's insights and advice provided the students with a solid foundation to build their music careers upon. We look forward to seeing the final project and witnessing the creative potential of these young aspiring music producers.
D. Shim has been providing high-quality music production services to artists, producers, and record labels in Miami for several years. With a team of experienced producers, engineers, and musicians, the VIBE OUT Studio has established itself as a trusted partner for clients seeking professional music production services.
The expansion of VIBE OUT Studios includes the addition of state-of-the-art equipment and software, which will allow the studio to offer a wider range of services. This includes music composition, sound design, and mixing and mastering services, as well as custom music production for film, television, and advertising.
"We are excited to expand our services and capabilities at VIBE OUT Studios," said D. Shim, the studio's founder and CEO. "Our goal has always been to provide our clients with the highest quality music production services, and this expansion will allow us to do that more effectively than ever before."
VIBE OUT Studios has also announced that they will be offering a range of new services for independent artists and producers, including songwriting, vocal production, and artist development services. These services are designed to help independent artists and producers take their music to the next level and achieve their career goals.
"We understand that the music industry can be challenging, especially for independent artists and producers," said the CEO. "That's why we're excited to offer these new services, which will help our clients develop their skills, hone their craft, and achieve their dreams."
With the expansion of their services and capabilities, VIBE OUT Studios is well-positioned to continue providing high-quality music production services to clients in Miami and beyond. Whether clients are seeking custom music production for a film, television show, or commercial, or are looking to develop their skills as an independent artist or producer, VIBE OUT Studios is ready to help.
For more information about D. Shim and VIBE OUT Studios, please visit
Media Contact
Company Name: Vibe Out Studios
Contact Person: D. Shim
Email: Send Email
Address:14025 SW 142nd Ave Unit 41
City: Miami
State: Florida 33186
Country: United States
Website: www.vibeoutstudios.com