The Acute Heart Failure Market to Grow Positively at a significant CAGR During the Study Period (2019-2032), estimates DelveInsight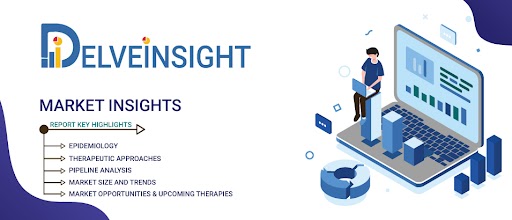 DelveInsight's "Acute Heart Failure Market Insight, Epidemiology and Market Forecast 2032" report provides current treatment practices, emerging drugs, Acute Heart Failure market share of the individual therapies, current and forecasted Acute Heart Failure market size from 2019 to 2032 segmented by seven major markets. The report also offers current Acute Heart Failure therapy algorithms, market drivers, market barriers, and unmet medical needs to curate the best of the opportunities and assesses the underlying potential of the Acute Heart Failure market.
Acute Heart Failure Overview
Heart Failure (HF) is also known as congestive heart failure. It is also bifurcated as left-side HF (when the heart is unable to pump enough oxygen in the blood to the body) and right-side HF (when the heart is unable to fill itself with enough blood). Another term for HF is corpulmonale which means that right-side HF is caused by high blood pressure in the pulmonary arteries and right ventricle.
There are two types of heart failure: acute and chronic. Acute heart failure has a sudden onset and symptoms can appear without warning. However, in chronic heart failure, that difficulty is ongoing and long-term. It was observed that majority of patients are affected with Chronic heart failure. Acute heart failure (AHF) is a kind of syndrome that is defined as the new onset (de novo heart failure (HF)) or worsening (acutely decompensated heart failure (ADHF)) of symptoms and signs of HF, mostly related to systemic congestion.
The clinical presentation of AHF is characterized mostly by symptoms and signs related to systemic congestion (that is, extracellular fluid accumulation, initiated by increased biventricular cardiac filling pressures). Symptoms of acute heart failure include: Shortness of breath while moving or lying flat, also known as dyspnea, Feeling tired, Swelling of feet, ankles, legs, abdomen or veins in the neck, among others.
Acute Heart Failure Epidemiological Insights
According to the study conducted by Mozaffarian et al. (2015), acute heart failure constitutes the first reason for hospital admission in the elderly, with a total of approximately 1 million admissions per year in the US and a similar number in Europe.
Acute Heart Failure Treatment Market
Congestive HF is a morbidity that is increasing worldwide due to the aging population and improvement in (acute) care for patients with cardiovascular diseases. The prognosis for patients with HF is very poor without treatment. Furthermore, hospitalizations for cardiac decompensation cause an increasing economic burden. It is a chronic long-term condition that gets worse with time. There are four stages of heart failure (Stage A, B, C and D). The stages range from "high risk of developing heart failure" to "advanced heart failure," and provide treatment plans. These stages are different from the New York Heart Association (NYHA) clinical classifications of heart failure (Class I-II-III-IV) that reflect the severity of symptoms or functional limits due to heart failure (Cowie, 2017)(Tanaka, Sawano, Ramani, Friedman, & Kohsaka, 2018).
Globally, acute heart failure (AHF) remains an ongoing public health issue with its prevalence and mortality increasing in the east and the west. Almost 6 million Americans have heart failure, and there are an additional 500,000 new cases diagnosed each year.
According to the Centers for Disease Control and Prevention (CDC), about 5.7 million adults in the United States have heart failure. Heart failure happens when the heart cannot pump enough blood and oxygen to support other organs in the body. Heart failure is a serious condition, but it does not mean that the heart has stopped beating. About half of people who develop heart failure die within 5 years of diagnosis.
Acute heart failure can be severe and anyone with symptoms should see a clinician as soon as possible. Treatment is initially focused on alleviating life-threatening symptoms, then on the examination of underlying causes and treatment of residual symptoms. Hospitalization is generally required while cardiac performance improves. There are a range of potential treatments for acute heart failure. The treatment that is applied will depend on the person's symptoms and the underlying issue causing them. For an instance Shortness of breath (dyspnea): This symptom is treated with supplemental oxygen. The severity of dyspnea will dictate whether oxygen is supplied through a tube in the nose or a face mask. Sitting upright can help with breathing. Buildup of fluid: Intravenous diuretics are used to treat buildup of fluid within the body. A pulmonary edema will also be treated with diuretics, as well as oxygen and heart failure medication.
Promising Therapies in the Acute Heart Failure Pipeline
Empagliflozin
Forxiga
APD418
And others
Discover more about Acute Heart Failure therapies in the pipeline @ Acute Heart Failure Drugs
Leading Companies Working in the Acute Heart Failure Market
Boehringer Ingelheim
Eli Lilly and Company
AstraZeneca
And others
To understand key companies related to the Acute Heart Failure Market, get a snapshot of the Acute Heart Failure Regulatory and Patent Analysis.
Scope of the Acute Heart Failure Market Report
Study Period: 2019–2032
Coverage: 7MM [The United States, EU5 (Germany, France, Italy, Spain, and the United Kingdom), Japan]
Key Acute Heart Failure Companies: Boehringer Ingelheim, Eli Lilly and Company, AstraZeneca, and others
Key Acute Heart Failure Pipeline Therapies: Empagliflozin, Forxiga, APD418, and others
Therapeutic Assessment: Acute Heart Failure current marketed and emerging therapies
Acute Heart Failure Market Dynamics: Acute Heart Failure market drivers and barriers
Competitive Intelligence Analysis: SWOT analysis, PESTLE analysis, Porter's five forces, BCG Matrix, Market entry strategies
Unmet Needs, KOL's views, Analyst's views, Acute Heart Failure Market Access and Reimbursement
Table of Contents
1. Acute Heart Failure Market Key Insights
2. Acute Heart Failure Market Report Introduction
3. Acute Heart Failure Market Overview at a Glance
4. Acute Heart Failure Market Executive Summary
5. Disease Background and Overview
6. Acute Heart Failure Treatment and Management
7. Acute Heart Failure Epidemiology and Patient Population
8. Patient Journey
9. Acute Heart Failure Emerging Drugs
10. 7MM Acute Heart Failure Market Analysis
11. Acute Heart Failure Market Outlook
12. Potential of Current and Emerging Therapies
13. KOL Views
14. Acute Heart Failure Market Drivers
15. Acute Heart Failure Market Barriers
16. Unmet Needs
17. SWOT Analysis
18. Appendix
19. DelveInsight Capabilities
20. Disclaimer
21. About DelveInsight
Trending Report Offerings by DelveInsight:
Gender Dysphoria Market
Germany Healthcare Outlook Market
Hyperlipidemia Market
Mammography Devices Market
Dental Equipment Market
Adalimumab Biosimilar Market
Hyperlipidemia Market
Metastatic Cutaneous Squamous Cell Cancer Market
Mucopolysaccharidosis Market
About DelveInsight
DelveInsight is a leading Business Consultant and Market Research firm focused exclusively on life sciences. It supports pharma companies by providing comprehensive end-to-end solutions to improve their performance. Get hassle-free access to all the healthcare and pharma market research reports through our subscription-based platform PharmDelve.
Contact Us
Kritika Rehani
+1(919)321-6187
Media Contact
Company Name: DelveInsight Business Research LLP
Contact Person: Kritika Rehani
Email: Send Email
Phone: 9193216187
Address:304 S. Jones Blvd #2432
City: Las Vegas
State: Nevada
Country: United States
Website: https://www.delveinsight.com/