Kitchen Appliance Industry to Grow at a CAGR of 4.3% during 2022-2027 – IMARC Group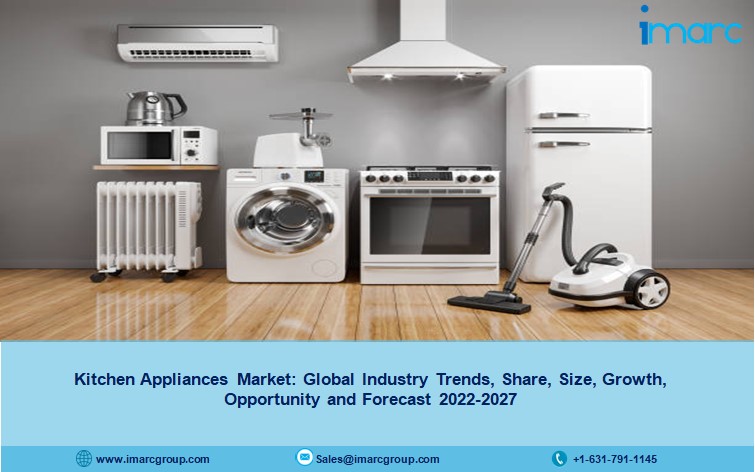 According to the latest report by IMARC Group, The global kitchen appliances market is expected to exhibit a CAGR of 4.3% during 2022-2027.
According to the latest report by IMARC Group, "Kitchen Appliances Market: Global Industry Trends, Share, Size, Growth, Opportunity and Forecast 2022-2027", The global kitchen appliances market is expected to exhibit a CAGR of 4.3% during 2022-2027. This report can serve as an excellent guide for investors, researchers, consultants, marketing strategists and all those who are planning to foray into the market in any form.
Kitchen appliances are devices that are designed to perform domestic tasks pertaining to cooking, storage and cleaning. These appliances, primarily operating on electricity or gas, are widely adopted across the globe for performing various complicated kitchen activities. They save time as well as the users' efforts by simplifying household chores. Appliances such as refrigerators, stoves and ovens have become an indispensable component for a majority of the households, whereas devices including blenders juicers, dishwashers, coffee machines, toasters, air fryers and rice cookers are also widely adopted across various households.
Request for a sample copy of this research report: https://www.imarcgroup.com/kitchen-appliances-market/requestsample
Note: We are regularly tracking the direct effect of COVID-19 on the market, along with the indirect influence of associated industries. These observations will be integrated into the report.
Kitchen Appliances Market Trends:
Rapid urbanization, inflating per capita income levels and improving living standards have increased in the uptake of modern kitchen appliances. In addition to this, hectic working schedules and long working hours of working professionals have provided a boost to the sales of convenient cooking appliances. Moreover, to address the issue of high electricity consumption by several devices, manufacturers have introduced various energy-efficient variants with energy rating labels. This enables consumers to understand the energy performance of a particular appliance in comparison with other similar models. Growing health consciousness among users has also led to an increase in the sales of devices that utilize little to no oil, such as air fryers and convection ovens. Furthermore, the advent of Wi-Fi connected kitchen devices that can be remotely monitored and controlled by smartphones is expected to impact the market growth favorably.
Key Market Segmentation:
IMARC Group provides an analysis of the key trends in each sub-segment of the global kitchen appliances market, along with forecasts at the global and regional level from 2022-2027. Our report has categorized the market based on product type, structure, fuel type, application and distribution channel.
Market Breakup by Product Type:
Refrigerators
Microwave Owens
Induction Stoves
Dishwasher
Water Purifiers
Others
Market Breakup by Structure:
Market Breakup by Fuel Type:
Cooking Gas
Electricity
Others
Market Breakup by Application:
Market Breakup by Distribution Channel:
Supermarkets and Hypermarkets
Specialty Stores
Online Stores
Departmental Stores
Others
Market Breakup by Region:
North America (United States, Canada)
Asia Pacific (China, Japan, India, South Korea, Australia, Indonesia, Others)
Europe (Germany, France, United Kingdom, Italy, Spain, Russia, Others)
Latin America (Brazil, Mexico, Others)
Middle East and Africa
Competitive Landscape:
The competitive landscape of the market has been studied in the report with the detailed profiles of the key players operating in the market.
Whirlpool Corporation
AB Electrolux
Winia Daewoo Electronics
BSH Hausgerate GmbH
Miele & Cie. KG
Sub- Zero Group, Inc.
Electrolux
Whirlpool
Samsung
Philips
Morphy Richard
Dacor
General Electric (GE)
Life is Good (LG)
Haier
Panasonic.
Key Highlights of the Report:
Market Performance (2016-2021)
Market Outlook (2022-2027)
Market Trends
Market Drivers and Success Factors
Impact of COVID-19
Value Chain Analysis
Comprehensive mapping of the competitive landscape
Explore full report with table of contents: https://www.imarcgroup.com/kitchen-appliances-market
As the novel coronavirus (COVID-19) crisis takes over the world, we are continuously tracking the changes in the markets, as well as the industry behaviours of the consumers globally and our estimates about the latest market trends and forecasts are being done after considering the impact of this pandemic.
If you want latest primary and secondary data (2022-2027) with Cost Module, Business Strategy, Distribution Channel, etc. Click request free sample report, published report will be delivered to you in PDF format via email within 24 to 48 hours of receiving full payment.
Browse other reports:
Robotic Process Automation Market Size
Cryogenic Equipment Market Size
Enterprise Application Market Size
About Us
IMARC Group is a leading market research company that offers management strategy and market research worldwide. We partner with clients in all sectors and regions to identify their highest-value opportunities, address their most critical challenges, and transform their businesses.
IMARC's information products include major market, scientific, economic and technological developments for business leaders in pharmaceutical, industrial, and high technology organizations. Market forecasts and industry analysis for biotechnology, advanced materials, pharmaceuticals, food and beverage, travel and tourism, nanotechnology and novel processing methods are at the top of the company's expertise.
Media Contact
Company Name: IMARC Group
Contact Person: Elena Anderson
Email: Send Email
Phone: +1-631-791-1145
Address:30 N Gould St Ste R
City: Sheridan
State: WY
Country: United States
Website: https://www.imarcgroup.com