Seborrhoeic Dermatitis Market Size, Epidemiology, Treatment, Therapies and Companies by DelveInsight
Seborrhoeic Dermatitis is a common chronic inflammatory skin condition, characterized by scaling and poorly defined erythematous patches. It may be associated with pruritus, and it primarily affects sebum-rich areas, such as the scalp, face, upper chest, and back, A milder variant is dandruff, which is manifested by dry, flaking scales on the scalp. The extent of involvement, as well as the severity of symptoms, helps to dictate treatment.
DelveInsight's "Seborrhoeic Dermatitis Market Insights, Epidemiology, and Market Forecast-2032" report delivers an in-depth understanding of the Seborrhoeic Dermatitis, historical and forecasted epidemiology as well as the Seborrhoeic Dermatitis market trends in the United States, EU5 (Germany, Spain, Italy, France, and United Kingdom) and Japan.
Some facts of the Seborrhoeic Dermatitis Market Report:
The market size of Seborrhoeic Dermatitis is anticipated to increase during the study period, 2019–2032.
As per Sessevile et al. (n.d) the prevalence of seborrheic dermatitis is increased among individuals with HIV infection, in whom it may be a presenting sign. The prevalence has been estimated to be around 35% among patients with early HIV infection and up to 85% among patients with acquired immunodeficiency syndrome (AIDS).
According to Clark et al. (2015), prevalence of seborrheic dermatitis is 1% to 3% in the general population and 34% to 83% in immune compromised persons. It has a bimodal distribution, with peaks at two to 12 months of age and in adolescence and early adulthood.
As per Berk & Scheinfeld, (2010) the prevalence of Seborrhoeic Dermatitis are limited by the absence of validated diagnostic criteria as well as a grading scale of severity; however, as one of the most common skin disorders, in the US, it affects approximately 11.6% of the general population and up to 70% of infants in the first three months of life may have the condition. Among adults, the peak incidence is in the third and fourth decades of life.
As per findings from secondary domain, males are most commonly affected in case of Seborrhoeic Dermatitis.
As per Berl et al. the worldwide prevalence of seborrheic dermatitis is around 5%, but the prevalence of its non-inflammatory variant, dandruff, is probably closer to 50%.
Current treatment for Seborrheic Dermatitis focuses on loosening scale, reducing inflammation and swelling, and curbing itch. The main goals of the prescribed therapies for Seborrheic Dermatitis are to clear the visible signs of the disease. As Seborrheic Dermatitis is associated with intermittent periods of relapse over several years, some preventative regimens have been identified. There is still a need of extensive research to understand the pathophysiology of this indication as well as the involvement of big pharmaceuticals key players to develop the better treatment modalities for this indication.
Get access to free sample report: https://www.delveinsight.com/sample-request/seborrhoeic-dermatitis-market
Scope of Seborrhoeic Dermatitis Market Report:
The report covers the descriptive overview of Seborrhoeic Dermatitis, explaining its causes, signs and symptoms, pathophysiology, diagnosis and currently available therapies
Comprehensive insight has been provided into the Seborrhoeic Dermatitis epidemiology and treatment in the 7MM
Additionally, an all-inclusive account of both the current and emerging therapies for Seborrhoeic Dermatitis are provided, along with the assessment of new therapies, which will have an impact on the current treatment landscape
A detailed review of Seborrhoeic Dermatitis market; historical and forecasted is included in the report, covering drug outreach in the 7MM
The report provides an edge while developing business strategies, by understanding trends shaping and driving the global Seborrhoeic Dermatitis market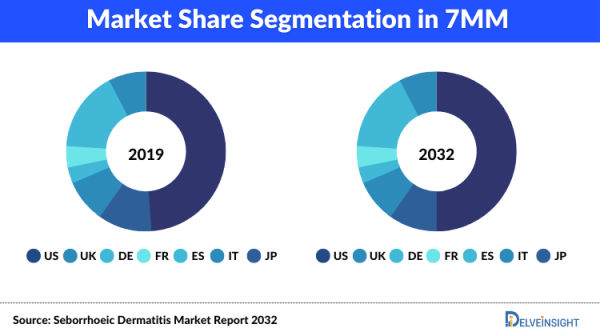 Get access to free sample report: https://www.delveinsight.com/sample-request/seborrhoeic-dermatitis-market
Seborrhoeic Dermatitis Companies:
Arcutis Biotherapeutics
Cutanea Life Sciences
Moberg Pharma AB
Astion Pharma A/S
LEO Pharma
Bayer
Lexington International, LLC
Arcutis Biotherapeutics
Kamedis Ltd.
Amorepacific Corporation
And Many Others
ARQ 154
Omiganan
K40a
ASF1057
Azelaic Acid 15%
HairMax LaserComb
ARQ-154
SEBORRHEAMEDIS Face Cream
And Many Others
Table of contents:
Key Insights
Executive Summary of Seborrhoeic Dermatitis
Competitive Intelligence Analysis for Seborrhoeic Dermatitis
Seborrhoeic Dermatitis: Market Overview at a Glance
Seborrhoeic Dermatitis: Disease Background and Overview
Patient Journey
Seborrhoeic Dermatitis Epidemiology and Patient Population
Treatment Algorithm, Current Treatment, and Medical Practices
Unmet Needs
Key Endpoints of Seborrhoeic Dermatitis Treatment
Marketed Products
Emerging Therapies
Seborrhoeic Dermatitis: Seven Major Market Analysis
Attribute analysis
7MM: Market Outlook
Access and Reimbursement Overview of Seborrhoeic Dermatitis
KOL Views
Market Drivers
Market Barriers
Appendix
DelveInsight Capabilities
Disclaimer
Get access to free sample report: https://www.delveinsight.com/sample-request/seborrhoeic-dermatitis-market
About DelveInsight
DelveInsight is a leading Business Consultant, and Market Research Firm focused exclusively on life sciences. It supports pharma companies by providing end-to-end comprehensive solutions to improve their performance.
Media Contact
Company Name: DelveInsight Business Research LLP
Contact Person: Ankit Nigam
Email: Send Email
Phone: +19193216187
Address:304 S. Jones Blvd #2432
City: Albany
State: New York
Country: United States
Website: https://www.delveinsight.com/report-store/seborrhoeic-dermatitis-market